New...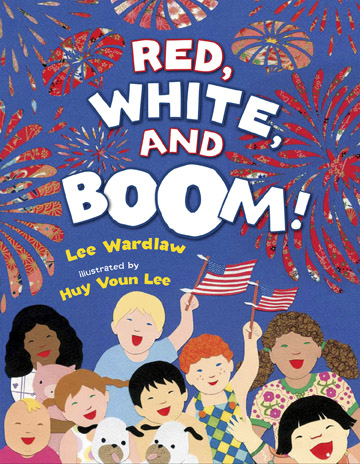 Red, White & BOOM!
written by Lee Wardlaw
illustrated by Huy Voun Lee

Henry Holt Books for Young Readers
April 2012/$16.99/Ages 2-7
Best Children's Books of 2013 - Children's Book Committee/Bank Street
College of Education
2013 California Readers - A California Collections Book
2012 CCBC Choices
2012 Society of Illustrators Original Art Exhibition
2012 Parents' Choice Awards, "Approved"
2012 Children's Book Council "Best Diversity Book List"
Click here for a Teacher's Guide
"Through the eyes and ears of its youngest citizens,
Red, White and Boom!
salutes and celebrates
our country's birth
with flags and food and family fun."

REVIEWS
Starred Review, School Library Journal
"Independence Day is brought to jubilant life in this striking picture book…simple, rhyming language rich in sensory imagery…rich in texture and beautiful patterns, the intricate collages depict a multicultural, multigenerational mosaic of people who gather in various ways to commemorate our nation's founding freedoms…this title is made to order for the summer story hour crowd as well as quiet lapsits under a shady tree."
Booklist
"…[a] big, bold picture book offering a child's-eye view of the holiday…paired, staccato lines suggest each experience in brief, evocative phrases…precise, colorful illustrations offer…plenty of details for children to enjoy. Just right for sharing with one child or many…"
Toledo Blade
"This charming book explores the July 4th holiday in terse verse…Cut-paper collage illustrations perfectly complement the simple text and show America's wonderfully diverse people happily at play."
San Francisco Chronicle
"Preschoolers are still decoding the seasons. Experience
is a good teacher, but [this book] adds to the knowledge base…as preview and review of America's birthday party, this book exuberantly fills the bill."
Children's Literature
"All the classic ways Americans celebrate the birthday of our country are evoked in this lively picture book. The text is minimal and telegraphic, done as short rhyming couplets…[the] collages dominate each page and make the meaning clear...every page includes a rainbow of ethnic heritages, underscoring the message that this country is everyone's home of the brave and land of the free."
Greatkidbooks.blogspot.com
"…Wardlaw and Lee capture the joy, excitement and pure fun of Fourth of July celebrations across the country in this bold, eye-catching picture book…Enjoy this book with your children, as you talk about your own family traditions. Teachers will love this, too, as a writing prompt to writing short poems about summer traditions."
L.A. Parent
"Award-winning author and unrivaled rhymer Lee Wardlaw has captured the essence of this patriotic holiday in a picture book that simply shouts happiness, fun and family on every page…"

Lee Wardlaw says:
"I still remember the Fourth of July celebrations of my childhood:
the boom-boom of parade drums reverberating in my chest…
…sticky-sweet watermelon juice trickling down my chin
as I spat seeds at my little brothers…
…stumbling, breathless, out of the cold Pacific
to roll like dogs in the hot beach sand…
…bundled in fishy-smelling sweatshirts
on the deck of my family's boat,
all of us craning our necks to behold
the burst and bloom
of fireworks overhead…
"On July 3, 1776, John Adams wrote to his wife, Abigail:
'…[Independence Day] will be celebrated by succeeding generations
as the great anniversary festival…
It ought to be solemnized with pomp and parade,
with shows, games, sports, guns, bells, bonfires, and illuminations,
from one end of this continent to the other,
from this time forward forevermore.'
HAPPY INDEPENDENCE DAY!