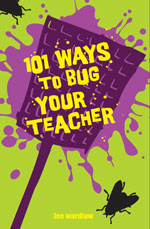 Teacher's Guide for
101 Ways to Bug Your Teacher
by Lee Wardlaw
About the Book:
Thirteen-year-old Steve "Sneeze" Wyatt is proud to be known for his fabulous inventions, but unfortunately they are also the reason his parents want him to skip a grade and leave all of his friends behind! Well, there's no way the resourceful Sneeze is going to let that happen. So, this time around he's come up with 101 sure-fire methods to drive his teachers absolutely batty . . . and not even a worrisome case of inventor's block or fear of a scary teacher nicknamed Fierce will deter him from his plan. In the tradition of Louis Sachar's There's a Boy in the Girls' Bathroom, this humorous tale of a boy at his wits' end will keep young readers laughing from start to show-stopping finish.
About the Author:
Lee Wardlaw is the author of more than twenty books for young readers, including the companion title to this novel, 101 Ways to Bug Your Parents, which won five state reader's choice awards. Most of the 101 ways in this book were compiled by real students with many added by Lee from her days as an elementary school teacher. "Numbers 13 and 33 used to drive me crazy!" she admits. (Perhaps that's why she now works full-time as a writer.) Lee lives in Santa Barbara, CA, with her husband, son, two cats, and a mummified chicken. To learn more about Lee and her books, visit her website at www.leewardlaw.com.
Author Interview:
1. How did you decide to write a companion book to 101 Ways to Bug Your Parents?
I received hundreds of requests from kids to write this novel that included examples of how they, personally, had accidentally bugged their teachers. Plus, it seemed natural to me that this would be the perfect follow-up to the first novel. I mean, other than their parents, what adult do kids spend the most time with? When you're with a teacher six hours a day, seven days a week, nine months every year, you can't help but get on his/her nerves!
2. Was it easier or harder to write the sequel?
Harder. Definitely harder. Sequels are always judged more harshly than the original book. So I knew this book had to be as good, if not better, than the original. I put so much pressure on myself to write a fantastic book that I actually got writer's block! It was amazing to me to realize that Sneeze and I were suffering from the same malady for the same reason!
3. What's your favorite part of being a children's author?
Favorite parts is more like it! I love: reading fan mail, autographing books for fans, spotting one of my novels in a bookstore (especially when a kid is reading it right then and there!), burying my nose into a freshly-published book of mine and snuffling up the aroma of fresh ink and crisp paper, creating characters I think would be fun to have as friends . . . I could go on!
4. What advice do you have for young authors?
Read, read, read as much as you can: novels, nonfiction, poetry, cereal boxes, anything, everything! And write, write, write every day. Even if it's only for five minutes. Give yourself permission to experiment and play. Give yourself permission to be awful. Don't worry about how 'good' your writing is. Just get your ideas down on paper – there will be plenty of time to revise later.
5. How do you know an idea is good enough to turn into a book?
No matter how 'good' an idea is, it's never enough to make a 'good' book. The most important thing you need to write a great novel is great characters: fresh, interesting, interested, believable characters - - characters your readers can relate to, care about, root for . . . characters with crucial problems to solve, difficult obstacles to climb, beckoning goals to reach.
6. What can your fans look forward to next?
Currently, I'm working on the third novel in this series: 101 Ways to Bug Your Brother and Sister. Judging from my fan mail, kids want to bug their siblings more than anyone else!
Discussion Guide:
What is Ms. Pierce's nickname? Why did she earn it? Explain her classroom management techniques. Would you like to have her as a teacher? Why or why not?
Who is King Cluck? Why is he important? Is it a good project or not? Why is its success so important, especially to Sneeze?
How have things changed for Sneeze since last year? Have have goals changed? Why?
Who is Daisy? Why doesn't Hayley want to meet her? How would you feel if you were Hayley?
What is Sneeze's own secret? What does it mean to be "blocked?" How do you overcome being stuck? What kind of jobs or hobbies can this happen in?
What are Steve's parents planning for his next school year? Why? Do you think they should've asked Steve first? Why doesn't he want to go?
Have you ever worked on a group project like the one in the book? Was it a good experience or not? Would you want to be assigned to Steve's team? Why or why not? How does the project change over the course of the story?
What is Steve's plan to thwart the move to the high school? Were you able to figure it out before he even revealed it to Hayley? What clues did you use?
Explain Steve's process for choosing what items should go on the bugging list. How does he evaluate each item?
How is joining a club not what Sneeze expects? What opportunity occurs because of the club? What clubs do youbelong to?
What happens when Sneeze acts out in Fierce's class? How does he turn the punishment around? Would you be able to do this?
How is the story Tony the nurse tells Sneeze about his riding days similar to what Sneeze is feeling about inventing? What does he learn from Tony? What does it mean to do something for the joy of it?"
Why won't Steve publish the list? Do you agree with his reasons? What does Goldie hope he'll do? How would your teachers or parents react to Sneeze's behavior?
Explain what happens at the History Faire. Why does Fierce think that Steve orchestrated the mess? What caused the problem? What resulted from it?
How will Steve's life change in the next year? What has he learned over the course of this novel? Predict what you think he'll be doing in five, ten and twenty years.
List 10 ways your teachers bug you. List at least ten of the ways you bug your teachers. Do you think teachers try to torture their students? Do students try to torture their teachers? Why or why not? How can teachers and students understand each other better?
Activities:
Language Arts:
As you read the novel, write letters from Sneeze to Hiccup about what is going on at school and at Gadabout. Answer three of the letters in the voice of Hiccup.
Math:
Steve repairs many small and large appliances for both friends and neighbors. Although he intends on being an inventor, he could earn good money as a Mr. Fix-It while he attends college. How much could he earn an hour? Find out. Research the average charge for service calls and repairs for the following common household items: garage door, washer or dryer, stove, refrigerator, computer, etc.
Science:
Invent something. Design it on paper or try to build it yourself. Safety is the most important aspect of this assignment- so be careful! Let your imagination be your only limitation.
History:
Create your own project for the History Faire. It can be in a small group, on a topic assigned by your teacher, or an individual project, but it must impress!
Extra-Curricular:
What kind of club would you like to join? If your school doesn't sponsor one, why not start one yourself (like the invention club in the novel)? Create membership information, by-laws or rules, a purpose, and goals. Then, get permission to meet during lunch, recess or after school with a teacher who shares a similar interest. Promote your new club with posters, announcements and in the school newspaper and prepare to make new friends!
This guide was created by Tracie Vaughn Zimmer, a reading specialist and author of Reaching for Sun. To find many other guides to children's literature, visit her website: www.tracievaughnzimmer.com.
This curriculum guide may be copied without permission for classroom use.