"It's the first day of the school. It's the worst day of school...."
When Jill's best friend moves away, she's left all alone. Then Bobbi Jo asks her to join the Lunch Bunch Club, a wacky group of kids who bring unusual lunches to school each day. But will Jill's Dinosaur Pizza be Tyranno-rific enough to keep her in the Club? Or will she learn that it takes more than dino-mite food to make true friends?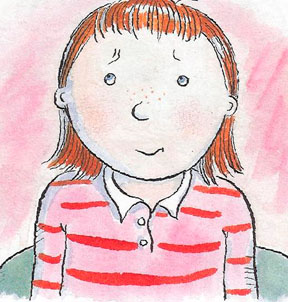 Children's Literature Review:
"What if no one sits with me at lunch? This common fear of school children is humorously explored in Wardlaw's story. Characters that are eccentric without being totally unbelievable, simple yet appropriate illustrations, and a recipe for Dinosaur Pizza add to the book's appeal…the book includes suggestions for parents helping to lead their children to literacy…"
Parent Council:
"This fun story is sure to amuse and perhaps inspire young cooks to experience a dinosaur pizza . . . "
Reading Is Fundamental (RIF)
Kids in the Kitchen Book List:
". . . Jill is lonely. The Lunch Bunch Club will accept her as a member, but only if she comes up with some creative lunch ideas in a hurry. . . [the book] introduces children to a variety of foods. They also learn how Jill stands up to group pressure."




Excerpt from
DINOSAUR PIZZA:
"I want you to meet the Lunch Bunch," Bobbi Jo says. "This is Duke. "
"Yo," says Duke.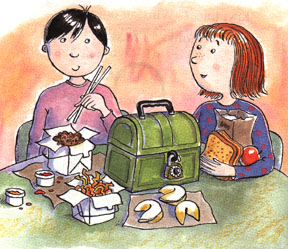 "And this is Winston."
"It's Monday," Winston warns. "I eat only green food on Monday."
"Chow time!" Bobbi Jo shouts.
"Yay!" says Duke.
Bobbi Jo tucks a napkin under her chin. She opens a picnic basket. It's filled with buffalo chili, corn bread, and dandelion salad.
Winston opens a bag that reads MONDAY. He's packed pea soup, lime Jell-O, and pickles. For dessert he has a bag of M & Ms. Green ones.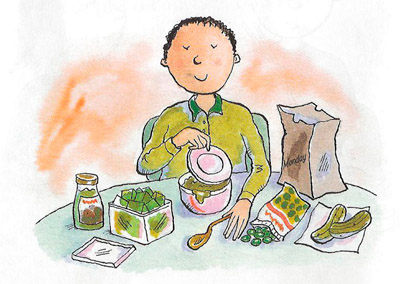 "Kiwi juice? Winston offers.
"Uh, no thanks," I answer.
Duke whisks out a toolbox with a lock. He sneaks a peek at me. Then he fiddles with the dial. He lifts the lid.
The smell of Chinese food tickles my nose.
"Are those real chopsticks?" I ask.
"Yup," says Duke
Bobbi Jo points at my lunch bag. "What do YOU have to share?"
"An apple, a cupcake, and two peanut butter sandwiches," I say.
"Yawn," says Duke.
"Don't you have anything green?" Winston asks.
I shake my head.
Winston sighs.