2014 Prairie Pasque (South Dakota) Young Reader Award Nominee
2014 Nevada Young Readers Award Nominee
2014 Young Hoosier (Indiana) Book Award Nominee
2014 Sequoyah (Oklahoma) Children's Book Award Nominee
2014 Grand Canyon (Arizona) Young Reader Award Nominee
2013 Winner, Chickadee (Maine) Reader's Choice Award (Picture Books)
2013 Beehive (Utah) Poetry Book Award Winner
2013 North Carolina Children's Book Award Nominee
2013 AudioFile Magazine Earphones Award Winner
2013 Mockingbird (Texas) Award Nominee
2013 Chuckwagon (Texas) Picture Book Reading List
2013 California Readers - California Collections List
2013 Kentucky Bluegrass Award Nominee (Grades K-2)
2013 Armadillo (Texas) Readers' Choice Award Nominee
2013 Red Dot Children's Choice Award Nominee (Singapore)
2013 Rhode Island Children's Book Award Finalist (3rd Place)
2012-13 Pennsylvania Young Reader's Choice Award Nominee
2012-2013 Mentor Text, Young Writers' Project, North Dakota Reading Association
2012-2013 Surrey Schools Picture Book of the Year Nominee (British Columbia Teacher-Librarians Association)
2012-2013 Fiction Diggers List
2012 NCTE/CLA Notable Children's Book in the English Language Arts
2012 SCBWI Crystal Kite Members' Choice Award - California/Texas Region
2012 San Francisco Book Festival - Best Children's Book
2012 Myra Cohn Livingston Poetry Award
2012 Lee Bennett Hopkins Poetry Award
2012 CCBC Best Children's Books of the Year
2012 ALSC Notable Children's Books
2012 Los Angeles Book Festival - Best Children's Book
2012 Nominee: Capitol Choices Noteworthy Books for Children
2012 Nominee: Sakura Award (Japanese Children's Choice Award)
2012 Recommended Reading List, Reading Circle Committee, Missouri State Teachers Association
2012 Librarians' Choices List
2011-12 AISLE (Indiana) Read-Alouds Too Good to Miss List
2011 SLJ Best Books of the Year
2011 Washington Post Best Books of the Year
2011 Cat Writers' Association Muse Medallion (Best Children's Book)
2011 Fancy Feast Best Friends Award (Best Children's Book)
2011 Forward National Literature Award (Best Picture Book)
2011 NYPL Best Books of the Year - Poetry
2011 NYPL 100 Books for Reading and Sharing
2011 BSCE/CBC Monthly Pick (April)
2011 Lasting Connections List - Book Links Magazine
2011 Nerdies Award (Poetry)
Click here for a Teacher's Guide!
Click here for Lee Wardlaw's pawsome Kitty Litter Cake!
Click here to watch an interview with Lee Wardlaw
on Literary Gumbo!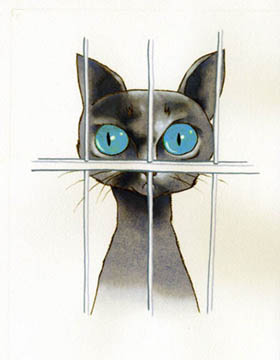 Can you find a home for Won Ton? These reviewers did!
Kirkus (starred review): "Perfect pussycat poetry for anyone who has ever loved a shelter cat."

Booklist (starred review): "…[a] wry, heart-warming title that's sure to find wide acceptance in the classroom and beyond."

School Library Journal (starred review): "Won Ton's sweetly humorous story will steal the hearts of readers young and old."

Publisher's Weekly: "…Wardlaw has a fine understanding of the feline mind, and each 17-syllable poem packs a big impact…A surprisingly powerful story in verse."



Chicago Tribune: "From the front cover on, this nameless shelter cat steals the show, with wide eyes, a sinewy body and a blue-gray coat... The charm of the text is that we see everything anew, from the cat's perspective…"



Toledo Blade: "Teachers rejoice! Here is a book that makes haiku more fun than a writing exercise on syllabification. Wardlaw clearly understands cats and cleverly depicts typical cat actions…Yelchin's stylized Russian Blue with great blue eyes captures Won Ton's comically aloof attitude to perfection."



Buffalo News: "The poignant story of a shelter cat finding a forever home unfolds in haiku verse in this funny, lovely and original picture book…offering a beguiling mix of humor…and emotion—along with a painless lesson in the creative possibilities of this form of poetry."


Wall Street Journal: "Sometimes the full savor of a book only comes through silent absorption. That is manifestly the case with Won Ton: A Cat Tale Told in Haiku. Children old enough to read will get the full force of the harmonious combination of Lee Wardlaw's wry verse and Eugene Yelchin's witty illustration.


Christian Science Monitor: "…winning drawings [and] perfectly formed haiku."


Amy Shojai, Cat Behavior Expert: "This lovely book belongs in every cat lover's library. It painlessly educates children to basic cat behaviors and emotions, teaches empathy, and celebrates the gift of saving a life. Each short verse details one aspect of a shelter cat's journey from a cage to finally embracing his new life and family with trust and love. I would love to send this book home with every new kitten and cat adoption. I cannot recommend this book highly enough."



A Fuse #8 Production: "…With plenty of things to love for poetry and cat lovers alike, Won Ton takes an old form and renders it furry… A cheery ode to a boy and his cat, this is one of the books to grab the next time someone asks you for "fun haiku". Or really, any poetry in general."


Hicklebee's Children's Book Store: "Lee Wardlaw has created an incredible book - it's poetry, it's an adoption tale, it's an animal story and it is magnificent."


Cat Fancy Magazine: "Won Ton's feisty, playful personality is revealed, creating a sweet story that will resonate with readers young and old."


Seven Impossible Things Before Breakfast: "…captivating…"



BookPage: "…wonderfully innovative, telling a story through a series
of senryu that are compelling yet quite accessible to young readers …a touching tale, made even more dramatic by Yelchin's sublime illustrations, [which add]drama, emotion, fun and beauty."



Bookends: "…Yelchin appears as familiar with feline antics as author Wardlaw. This is a literary cat that can be believed in whether exhibiting indifference or indignance…There's a really delightful story here too, wonderfully crafted poems and illustrations that are comic but also convey the very essence of cat nature….

"I love finding picture books that can be used to demonstrate topics with older students as so often the picture books are clear, direct and short to read. Won Ton is a perfect book to use to demonstrate these poetic forms to students of all ages. Put this on a visual presenter and read this one and students will be grabbed by the fun and the form. Ask them to try their hand at creating a senryu about an animal or human in their lives."

Read a hilarious review of Won Ton (written in zee French accent!) in Spider Magazine for Children:http://www.spidermagkids.com/books/miro/won-ton-a-cat-tale-told-haiku



Read a purrfect review of Won Ton in Mousebreath: A Lifestyle Magazine Written by Cats for Cats:
http://mousebreath.com/2011/03/25/do-you-haiku/
The Tail Behind the Tale…
by Lee Wardlaw

A child's first spoken word is usually "Da-Dad" or "Ma-Ma." Mine was "Pissy" – a one-year-old's fusion of "kitty" and "pussy cat."

Obviously, my affinity for felines goes waaaaay back!

While I was growing up, my family adopted numerous stray cats, including:



Pit-a-Pat (a big, dumb Tom who acted blasé even if you carried him upside-down, which I did frequently until he ran away. Hm…);


Frank (whom we renamed Francine after 'he' gave birth to a litter of six kittens);


Jeffer (the ultimate Lap Cat, who purred and drooled with abandon when petted);


Prudence and Patience (who were neither);Tribble (Star Trek rules!);
Ki Ki (a Siamese with an insatiable appetite for wool. My mother gave him away after he chewed a huge hole in our living room drapes and gnawed off the pocket of my new blue coat, which was fine with me, as I H.A.T.E.D. that blue coat. It itched!).



My son, Patterson, is also a card-carrying cat person. So when our beloved Snowshoe Siamese, Beaujolais, died of cancer, we visited a local shelter to interview kittens. It was an experience right out of 'Goldilocks and the Three Bears': "That one is too shy. That one, too bite-y. Ew! That one is sleeping in his litter box! Hold on, wait. Maybe…Yes! This one is Just Right."

We signed the adoption papers and brought the mewling, gold-eyed ball of black fluff home with us – where he immediately skittered under Patterson's bed and stayed for three whole days. When he finally ventured out to snub his first dish of food and bat at an Hawaiian shell lei, Patterson named him Mai Tai.

And so began our life together…

…and my idea for a new book.

Won Ton: A Cat Tale Told in Haiku is based on the true story of Patterson's and Mai Tai's growing friendship.

As for why I wrote their story in haiku? It seemed fitting. Cats embody haiku. They live in the moment; their beauty is compact, simple, vivid; they speak volumes in only a few words. If cats could talk, I'm pretty sure it would be in the poetry of haiku.

Lee, age 6, with her first cat, Pit-a-Pat

Lee Wardlaw lives in Santa Barbara, CA, with her
husband, teenage son and three former shelter cats:

Mai Tai (a.k.a. The Black); Koloa (a.k.a. ZuZu's Petals) and Papaya (a.k.a. Stinky or Big Boy). Lee often writes with Koloa on her lap and Papaya sleep-shedding on her desk. When she breaks for lunch, Mai Tai usually presents to her a collection of internal organs from his latest kills (rabbits, mice, gophers, rats), arranged in a zen-like manner at the back door.